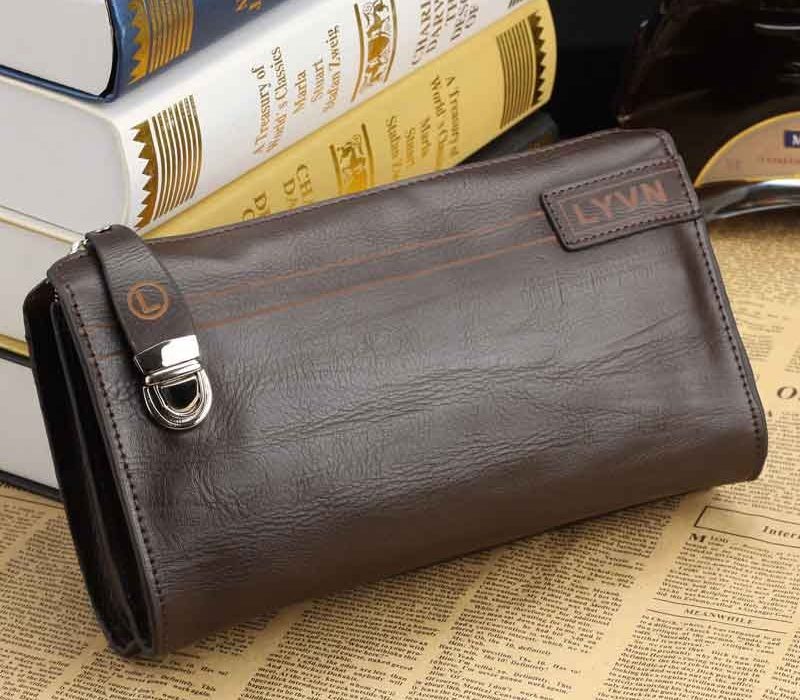 I was called downstairs on a Sunday morning to join the rest of the family for breakfast. As I walked in, I noticed a strange object on one of the kitchen work surfaces; a black leather bag the size of an average wash bag with a loop handle and a zip that ran the length of it. It looked like one of those "manbags" that men had started carrying in the Nineties. I was the only man in the house and I never had a manbag of any shape, size, material or colour so, I was certain the item I came across that morning was not mine.
"Whose manbag is this?" I asked unnecessarily.
******
It had been a very busy weekend up to that point. On Friday night, I landed at Birmingham Airport on an internal flight from Edinburgh where I was working on an assignment at the Royal Bank of Scotland. I then drove back home for a quiet evening meal with my wife Claire and our youngest Faye (7). We went to bed relatively early as we had a busy weekend ahead.
On Saturday morning I drove to Heathrow Airport with my regular companion Faye to collect Leila (13) and Rosy (12) while Claire stayed behind to shop, clean and prepare a nice welcome meal for the returning sisters. The older sisters were returning from Jordan where we left them for an extra week after attending a family wedding. They were staying with my brother Samir who also had three daughters of comparable ages to ours. With Faye being so young, we did not feel comfortable leaving her for an extra week so, she returned with us.
Leila and Rosy finally emerged through the Arrivals doors accompanied by a female airline employee who was holding on to the two girls like a kidnapper might do until she secured the ransom money. She demanded of me formal identification and when that tallied with the information on the form she had in her hand she asked the girls to identify me and with mischievous giggles they confirmed I was indeed their dad so, the woman reluctantly handed them over to me for hugs and kisses. I was able to free my left hand from the group hug to reach over the girls' heads and sign the official form and the woman walked off satisfied the exchange was concluded fairly.
The girls had carry on luggage with an assortment of holdalls, wheelies and carrier bags. As ever, they dropped everything on the floor and busied themselves telling Faye what they had been up to while I was left to gather the luggage and lead the way to the car park. Like all parents, I wished at that moment I was an octopus to be able to pick up the strewn luggage but somehow, I managed to cope without having to resort to clutching an item or two between my teeth.
With girls and luggage safely tucked in the car, we drove the hour or so back home to be welcome by Claire who had prepared a nice special meal for everyone after another long session of hugging and kissing and telling of adventure stories. Again, I was left outside to collect the many items of luggage from the car and bring inside, which I did and dumped the entire load in the kitchen for sorting and management once the excitement had died down.
The rest of the day passed without drama spent doing the usual Saturday errands and duties, including making the call to Jordan to reassure everyone all was well and to thank them for looking after the girls.
******
Claire: What manbag darling?
Faye: What's a manbag?
Leila and Rosy: laughed!
Me: This bag here on the counter
Claire: It's not mine
Faye: What's a manbag?
Rosy: A bag with hairy legs
Leila: No, its a bag for men
Me: Well, whose is it then?
Faye: Can I see it?
Claire: I don't know
Leila: No, you can't see it, you are not a man
Me: It must belong to someone
Claire: Well open it and see, darling
That signalled a new phase in the drama and the three girls jumped out of their chairs and joined me in preparation for the opening ceremony, which I was not too keen on initiating just yet.
"If it is not ours, then maybe we shouldn't open it. Have we had men visitors lately who might have left it behind?" I asked Claire. "No darling we didn't. In any case, I tidied the kitchen up yesterday while you were collecting the girls so, it must have appeared in the last day or so."
Still suspicious of the item, I inspected it from the outside as though it was a Rubic's Cube ready to be solved. "Maybe it's an old make up bag of yours or one of the girls washbags or even a pencil case." The girls sang in unison of disgust "eeeeewwww!"
Finally, Claire had enough of the speculation, got up and joined our cluster of curious onlookers, confiscated the mystery item and inspected it before she finally declared it was not an old make up bag, wash bag or pencil case. She went further by declaring that it belonged to no one in our household. She then broke a dozen or so laws related to private property and opened the case!  The four of us were glad it was her who was going to prison and not us. We moved in closer to see what was inside and Faye being the smallest demanded a better access to the scene so I let her stand in front of me.
Claire began to empty the bag. She took out a small packet of tissues, which was a disappointment to the crowd. She then brought out some papers which looked like receipts; more disappointment. Finally, she brought out a couple of pictures of a family with a father, a mother, a boy and a girl, slightly more exciting but not really interesting except to heighten the mystery because although the family looked Middle Eastern, they did not look like any people we knew.
Me: Is that all there is?
Claire, that's it, it's all rubbish
Me: But where did it come from?
Faye: Let me see the picture
Claire: No idea! Wait a minute; there is another pocket inside with a zip
We drew closer to Claire's inspecting hands who bravely but foolishly, inserted a thumb and a finger inside the inner pocket and brought out a big wad of dollars! She went in again and brought out another wad of Sterling currency this time. Eyes grew larger, collective breath was drawn and cries of "WOW!" were uttered by all of us.
Me: Whose money is this?
Claire: I have absolutely no idea; there are hundreds of pounds here
Rosy: Is the money ours now?
Faye: Can I have some of the money please?
Leila: No you can't, it's not ours
We inspected the contents again, looked at the photographs one more time and found no clues there. However, we found a gentleman's name written on one of the pieces of paper and clearly he was an Arab. Finally, the penny dropped! We worked out that the mystery bag came with us amongst the luggage the girls brought back from Jordan the day before but we could not work out how it turned up amongst their possessions.
Armed with the only available clue of a gentleman's name, I called Samir in Jordan and briefly explained what we had discovered and wondered if he knew the gentleman in question. He said he didn't but would make inquiries and get back to us when he had any information.
The next two hours were spent speculating and piecing together what might have happened to bring the mystery bag to our kitchen. We asked the girls many questions and with hard facts plus a measure of leap of imagination we made up the following scenario:
"My brother and family took the girls to the airport on Saturday morning, and they were a little late arriving at the airport so, there was a bit of a mad rush to get them checked in and handed to a female employee of the airline as "Unaccompanied Minors". Having said goodbye to their uncle, auntie and cousins, they were led by the airline employee who got them to jump the queues through passport control and security. They dumped their stuff through the X-Ray machine, collected it from the other side and headed for the plane. It was jumping the queue element at the X-Ray part of the boarding process that gave rise to the unintended theft of someone's manbag."
Finally, the call from Samir came through with information about the name I gave him.
Samir: I could not find the man you are looking for
Me: Oh, so you did not reach him
Samir: No, but I spoke to his brother who works for the government Security Services
Me: Great! Was he able to tell you whether his brother can help?
Samir: Yes, he said his brother actually works for the airline
Me: So, where is he now?
Samir: He is in Birmingham, England
Me: Does he know anything about the manbag?
Samir: Not only does he know a lot about the manbag as it is his bag, he and his family are having a thoroughly miserable time in England with no holiday money and no idea where their money had disappeared to.
Me: Oh my goodness!
Samir: When I spoke to his brother, he was in the process of wiring him emergency money
Me: So, how do we unite man and manbag?
Samir: I didn't want to give the brother your contact details so he gave me this UK number to call the unfortunate man on.
At around midday that Sunday, I called the number and I am sure it rang for 0.25 second before the phone was answered by an anxious sounding man
Me: Hello, my name is Mufid Sukkar, I believe I have something that belongs to you
Him: Yes, it is mine! Thank you, thank you vey much
Me: It's okay, Just to be on the safe side, can you please give me some description of the item in question?
Him: Yes, it is a black clutch bag with money in it
Me: Anything else?
Him: Yes, I have a prescription, two photographs and the money was…
Me: Okay, that's enough thank you. I am satisfied it is yours
Him: Thank you, thank you very much
Me: We don't exactly know what happened but we found your bag amongst our young daughters' belongings as they were on the same flight as you
Him: Yes, we missed the bag at the X-Ray machine and my wife and I had a terrible fight all the way to England
Me: Oh dear! I am really sorry about that
Him: It wasn't your daughters' fault, I put her in charge of the bag and she was at fault
Me: Now, how do we get it to you?
Him: Where do you live? We will come to you now
Me: Well, where are you now?
Him: We are staying with relatives just outside Birmingham
Me: You are quite welcome to come and collect it but, I am actually driving up to Birmingham Airport tomorrow morning and we can meet there to save time and effort.
Him: Yes, that's a good idea
Me: The only thing is my flight is at 9:00 so I need to go through security by 8:00, is that too early for you?
Him: No, not at all, I WILL be there. How will I recognise you?
Me: Oh, that's a good point. I will be wearing a blue suit, white shirt and red tie. I will also be holding your manbag in my hand.
At 7:35 I parked my car in the long stay car park at Birmingham Airport, jumped on the courtesy bus for the five-minute drive to the British Airways Terminal. I walked in to the building around 7:50 and sticking out a mile stood an anxious gentleman who was inspecting every person who walked in to see if they wore the right combination of clothes. I spotted him before he spotted me so I walked up to him and smiled.
The relief on his face was palpable and he threw his arms around me and kissed me. I handed him the manbag and he handed me a small plastic bag, which he explained contained a small present for my daughters to reward them for "their honesty" as he put it. I did not have the heart to tell him that they, together with their youngest sister considered the possibility of being given the money on the basis of the old principle of: Finders, Keepers.
I had to take the presents with me to Edinburgh for the rest of the week until I returned home on the Friday. When they opened their reward, they found a picture frame each, which caused us a problem because Faye wanted one too so, we had to get her a picture frame of her own on Saturday morning.
That evening I found an email in English from the gentleman in question, which I had to ask Claire to hep me decode. I am sure he spent an evening going through the dictionary to translate from Arabic to English because it seemed like it was translated literally and lost quite a lot of meaning and pathos in translation but the essence of it was:
"The World is full of evil so it is rare indeed to find people who are honest enough to recognise the property of others and return it."
The frames are long gone now, I never kept in touch with the gentleman and all that remains of this story is the memory of witnessing the two extremes of human anxiety and relief during my brief encounter with our friend with the manbag.